10 Small DIY Ideas for Sprucing Up Your Home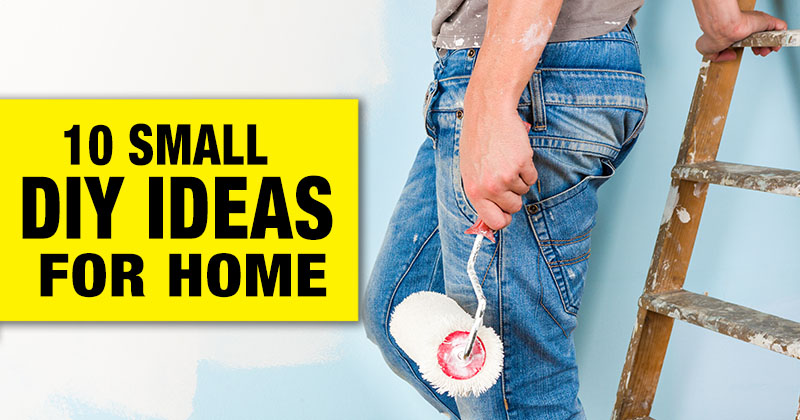 Hello, DIY enthusiasts! Are you eager to give your home a fresh, new look without breaking the bank? You're in the right place. We've got ten small DIY projects that can make a big difference in your home. Let's dive in!
The Importance of DIY Projects
DIY projects are more than just a fun pastime. They're a chance to save money, express your creativity, and make your home truly yours. Plus, there's nothing quite like the satisfaction of looking at a beautiful piece of decor and knowing you made it yourself.
1. A Fresh Lick of Paint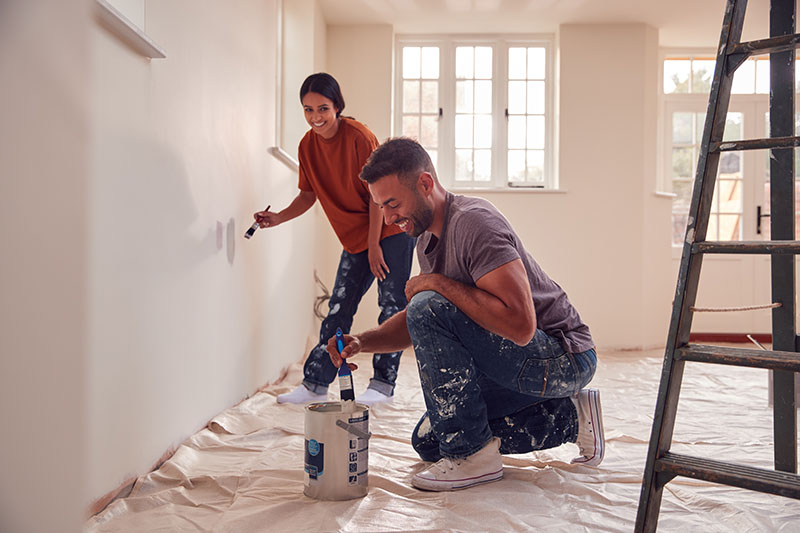 There's nothing quite like the transformative power of a fresh coat of paint. It's a simple yet effective way to breathe new life into your living spaces. Whether you're looking to create a calming oasis with soft, muted tones or make a bold statement with vibrant hues, a new paint job can significantly alter the mood and aesthetic of a room.
But it's not just about the walls. Ceilings and skirting boards often get overlooked in the painting process, but giving these areas a fresh lick of paint can enhance the overall effect. Remember, the key to a successful paint job lies in the preparation - ensure surfaces are clean, smooth and primed to achieve a professional finish. Remember keep paint tins stored correctly for touch -ups at a later date and to dispose of any unwanted paint correctly to ensure liquid waste does not end up in landfill.
2. Rearrange Your Furniture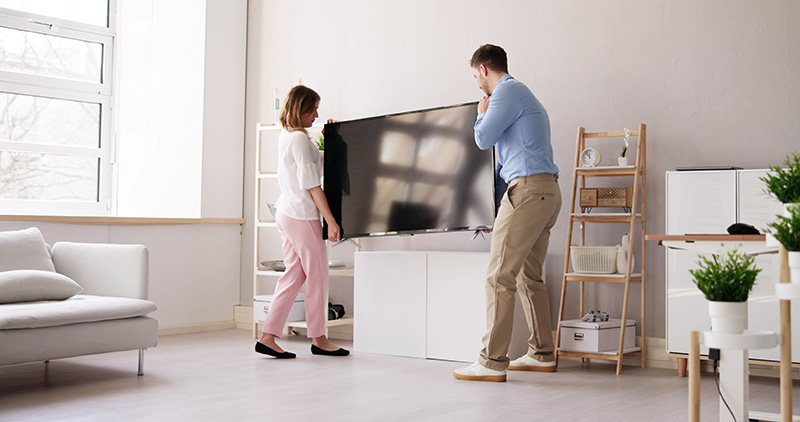 The layout of your furniture can significantly impact the functionality and aesthetics of a room. It's not just about filling space - it's about creating an environment that's comfortable, practical, and visually pleasing. Moving your coffee table, changing the orientation of your sofas, or even repositioning your TV can completely alter the dynamics of a room.
But remember, rearranging furniture isn't just about the big pieces. Consider the placement of smaller items like lamps, side tables, and decorative pieces. These can also play a crucial role in the overall look and feel of a room. So, don't be afraid to experiment with different layouts - you might be surprised at how a little rearranging can make your room feel like a brand-new space.
3. Picture Walls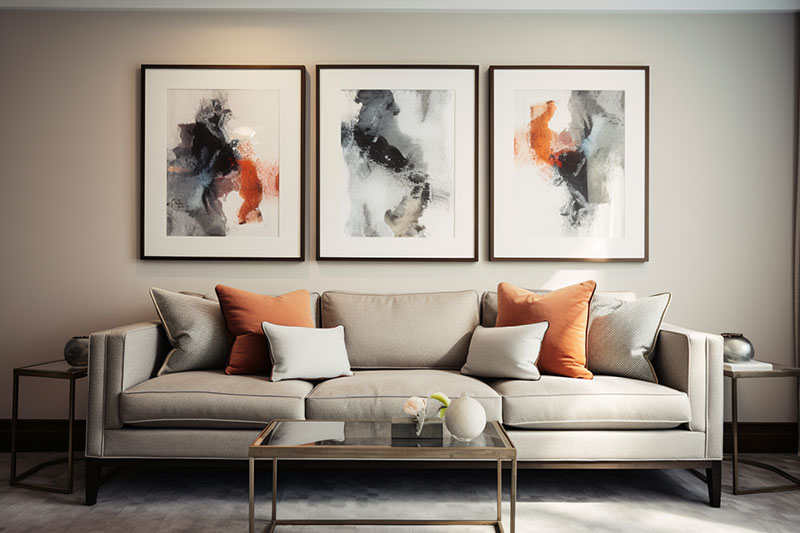 Picture walls are a fantastic way to inject personality and character into your home. They offer a unique opportunity to showcase your favourite memories, artwork, or inspirational quotes in a visually appealing way. The beauty of a picture wall lies in its flexibility - you can choose a theme that resonates with you, whether that's family photos, travel memories, or a collection of your favourite art pieces.
The process of creating a picture wall can be as enjoyable as the end result. Take your time selecting the pieces you want to display, considering their size, colour, and how they complement each other. Remember, there's no right or wrong way to create a picture wall - it's a reflection of you and your unique style. So, have fun with it and let your creativity shine.
4. Swap Your Cushions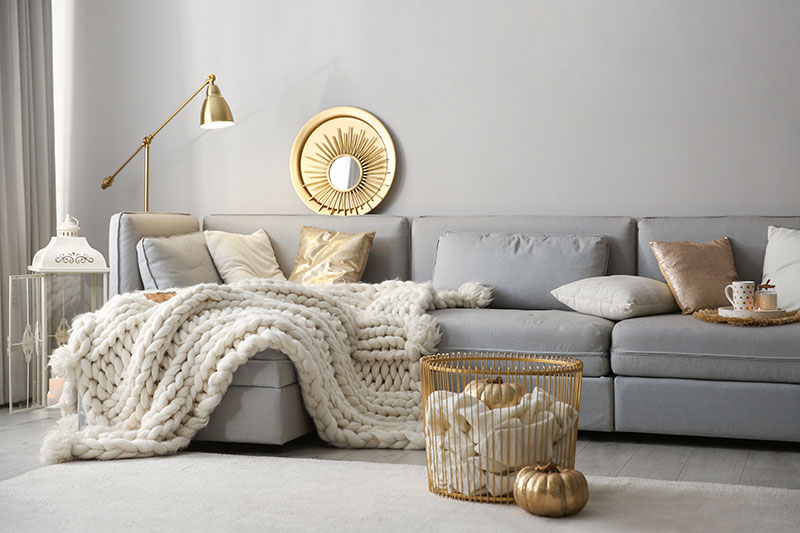 Cushions are more than just a comfort accessory - they're a powerful tool in your home decor arsenal. By simply changing your cushions, you can instantly alter the mood and style of a room. Whether you're looking to introduce new colours, textures, or patterns, cushions offer an easy and affordable way to refresh your living space.
But don't stop at cushions. Consider other soft furnishings like throws, rugs, and curtains. These elements can work together to create a cohesive look and feel. So, whether you're embracing a new seasonal trend or just fancy a change, swapping your cushions and other soft furnishings can make a big difference to your interior decor.
5. Rearrange Your Shelves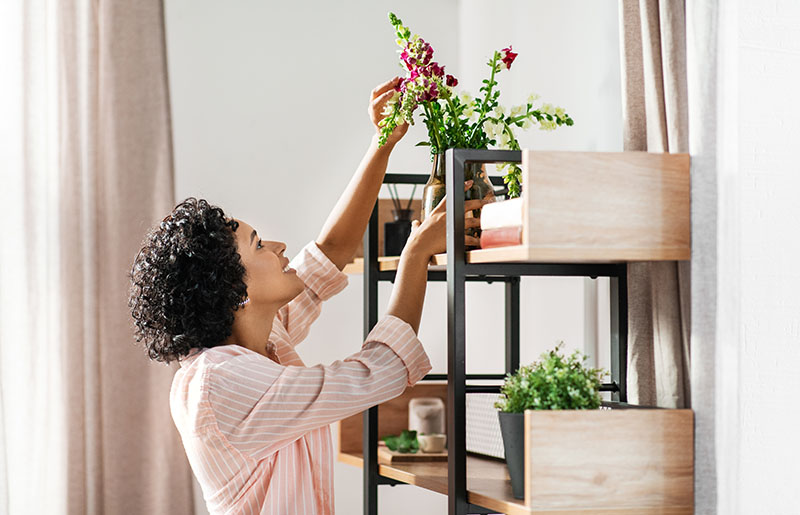 Shelves are not just for storage - they're a canvas for you to express your style. Restyling your shelves can create an attractive focal point in a room. Display a mix of books, photo frames, plants, and other decorative items to create a visually interesting space.
The key to a well-styled shelf is balance. Mix different shapes, sizes, and colours to create a dynamic display. And remember, you don't need to spend a fortune to achieve a great look. Sometimes, simply reorganising what you already have can breathe new life into your shelves. So, get creative and let your shelves tell your story.
6. Tidy the Garden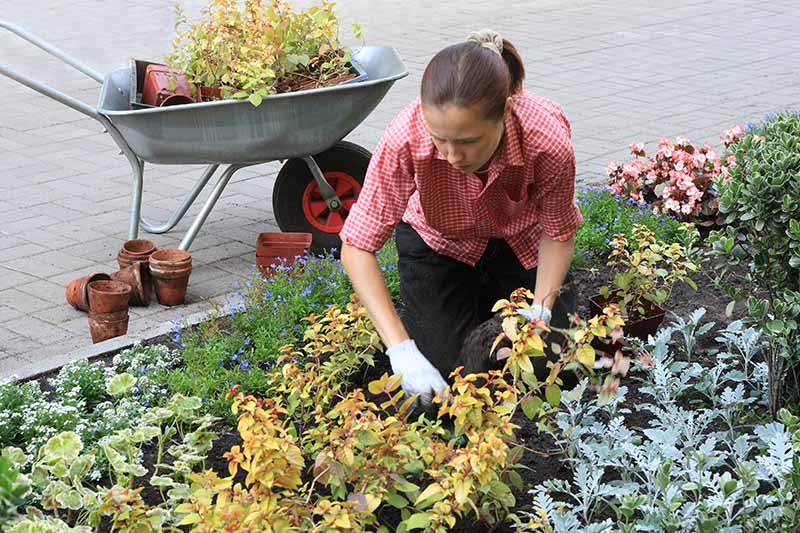 With gardens being an extension of our living space, a well-maintained garden not only enhances the aesthetic appeal of your home but also provides a tranquil space to relax and unwind. From mowing the lawn and tidying flower beds to planting new blooms, there are countless ways to spruce up your garden.
Consider creating a new patio area for outdoor dining or a cosy fire pit zone for those chillier evenings. If you're feeling adventurous, why not try your hand at building a raised vegetable bed? Not only will it add a new feature to your garden, but it will also provide fresh produce for your kitchen. Remember, a tidy garden is a happy garden, so roll up your sleeves and let your green fingers work their magic.
7. Repurpose Furniture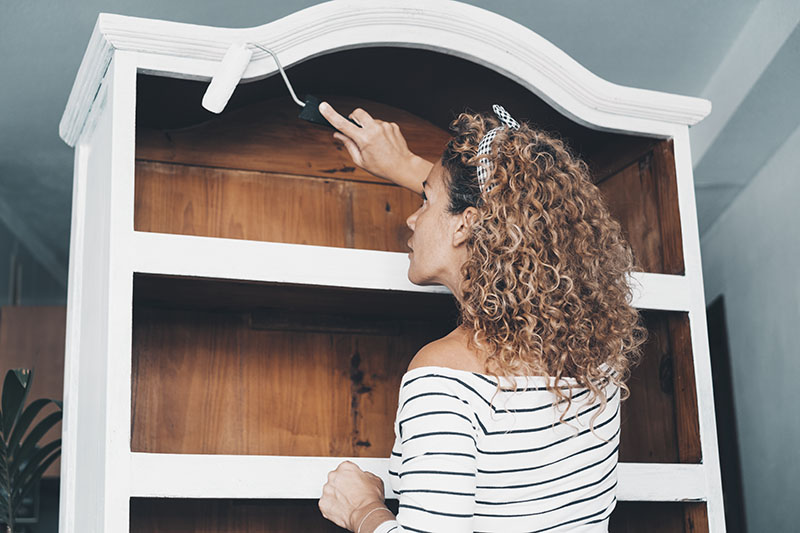 Repurposing furniture is a fantastic way to inject new life into old pieces. It's not only environmentally friendly but also allows you to create unique, personalised items for your home. From painting old drawers to reupholstering a worn-out chair, the possibilities are endless.
Don't be afraid to think outside the box. An old ladder can become a quirky bookshelf, or a vintage suitcase can be transformed into a stylish side table. The key is to see beyond the current state of the item and envision what it could become. So, before you throw away that old piece of furniture, consider how it could be repurposed. You might just find it becomes your new favourite piece.
8. New Lighting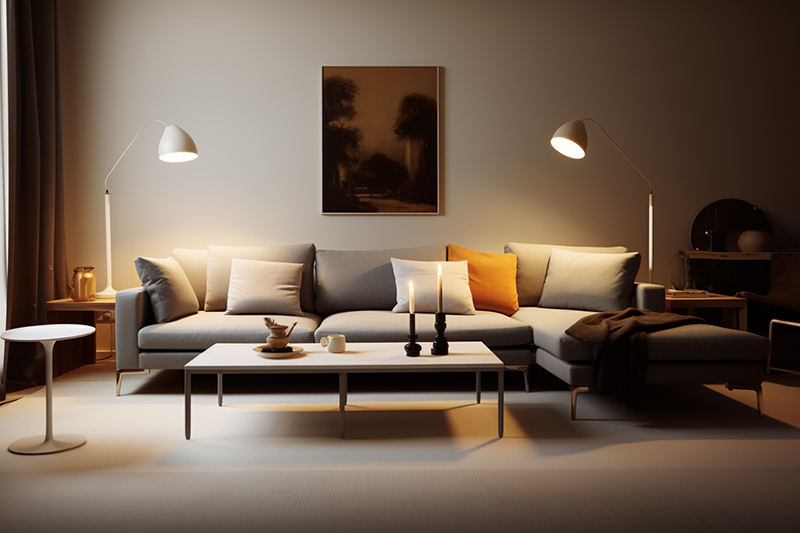 Lighting plays a crucial role in setting the mood and ambience of a room. It's not just about functionality - the right lighting can transform a space, creating distinct zones for working, relaxing, and entertaining. From statement pendant lights to subtle under-cabinet lighting, there are countless ways to illuminate your home.
Consider the purpose of each room and choose lighting that complements its function. A well-lit home office can boost productivity, while dimmable lights in the living room can create a cosy atmosphere for movie nights. Remember, lighting is a powerful design tool, so use it to your advantage to create a home that's warm, inviting, and beautifully lit.
9. Tile a Splashback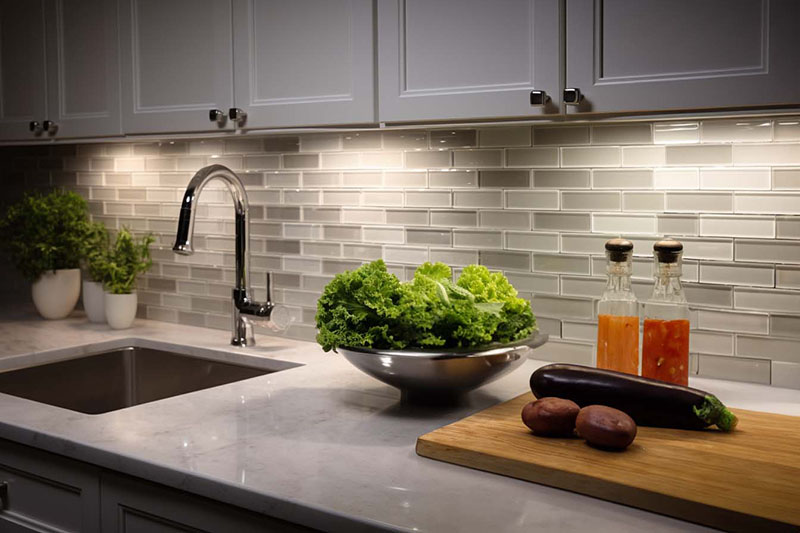 Tiling a splashback is a practical and stylish way to update your kitchen or bathroom. Not only does it protect your walls from splashes and stains, but it also adds a focal point to the room. Whether you opt for a classic subway tile, a colourful mosaic, or a modern geometric design, a new splashback can instantly elevate your space.
When choosing tiles, consider the overall style of your room. Do you want the splashback to blend in or stand out? Neutral tiles can create a sleek, seamless look, while bold, colourful tiles can make a striking statement. Don't forget about grout colour either - it can make a big difference to the final look. So, grab your trowel and adhesive, and get ready to transform your space with a newly tiled splashback.
10. Have a Clear Out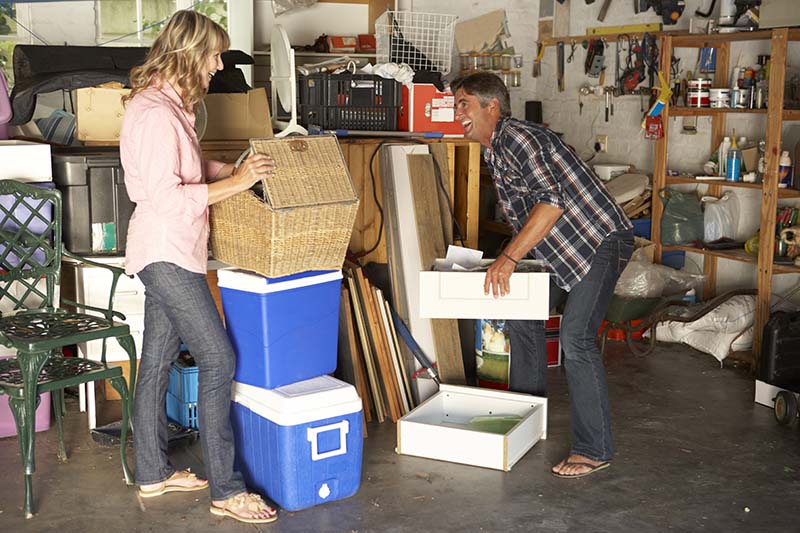 A clear out can be incredibly therapeutic, helping to create a more organised and less cluttered home. Whether it's the living space, the garden shed, the utility cupboard, or the garage, we all have areas that accumulate junk. Take this opportunity to sort through your items, recycling what you can and responsibly disposing of the rest.
Remember, a clear out is not just about getting rid of things - it's also about creating more efficient storage solutions. Consider investing in some new storage units or boxes to keep your newly cleared spaces tidy. And if you have a large amount of rubbish to dispose of, consider using a service like a HIPPOBAG or Man and Van service. They provide convenient, cost-effective, and reliable options for waste disposal, making your clear out as hassle-free as possible. So, roll up your sleeves and embrace the satisfaction of a good clear out.
---
Small DIY projects can make a significant difference in the look and feel of your home. Whether it's a fresh coat of paint, a rearranged furniture layout, or a newly tiled splashback, each project offers a unique opportunity to express your creativity and personal style.
Remember, the goal is not just to create a beautiful home, but also to enjoy the process along the way. So, why not roll up your sleeves and start on one of these projects today? With a bit of time and effort, you can transform your home into a space that truly reflects you. Happy DIY-ing!