Garden Waste Clearance & Removal

HIPPOBAG - As Seen on ITV's 'Love Your Garden'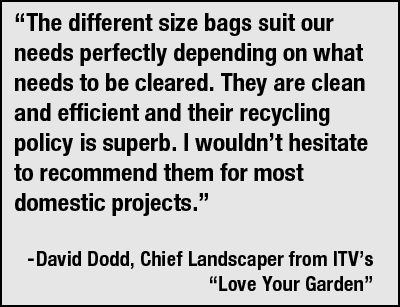 The HIPPOBAG is the perfect solution to tackle a variety of garden waste streams, so perfect in fact that the bags are once again being featured in Alan Titchmarsh's popular show "Love Your Garden" on ITV. Throughout the series we're providing the garden waste disposal of choice for the show's various projects, using our innovative HIPPOBAG range. On the show, well-deserving members of the public have their garden space transformed by Alan and his team into beautiful spaces to relax and unwind in.
Feeling inspired? If you're ready to begin your own garden makeover, HIPPOBAGs are ready to help - you can buy in store or online. The bags arrive flat-packed, avoiding the hassle associated with organising and waiting around for a skip, and there are no rental fees, so don't worry if weather halts play. The HIPPOBAG is ideal for disposing of waste from gardening and landscaping projects due to its flexibility and ease of use. The bags can even be collected over walls and fences, making them a convenient and hassle-free choice for gardeners and DIY enthusiasts alike.
Gardening should be fun, so for a stress-free green waste solution with no rental fees, no damage to your driveway or garden and with a simple one off payment, look no further than HIPPO. The HIPPOBAG can be positioned on grass or a driveway then filled with all your garden waste if you are starting a big garden clearance project or just having the annual tidy-up.
Garden waste removal from HIPPO is an easy alternative to hiring a skip or making the trip to a dump yourself. The MIDIBAG can hold 9 wheelbarrows of green waste and with a simple collection service that can be booked online, it's the easiest way to clear your garden for summer.