Pressure Cleaning Your Driveway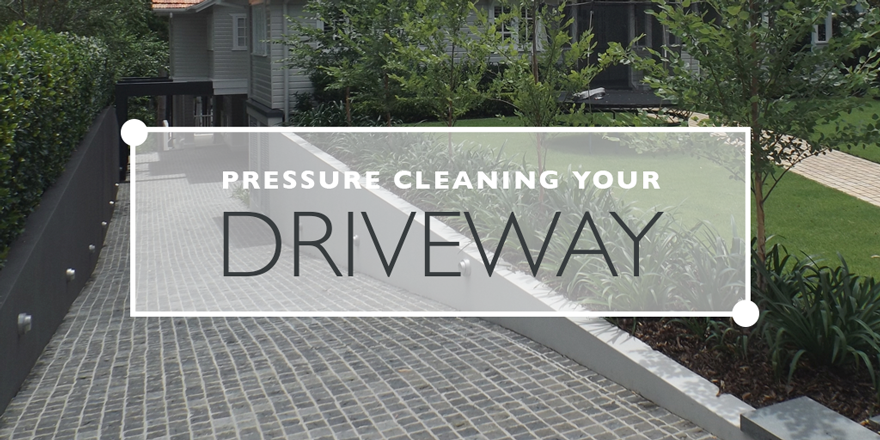 Is your driveway looking worse for wear? Over time, the elements will transform a once pristine and gleaming driveway into a dusty area that's coated in mud and moss. But by spending an afternoon and tackling the problem with a pressure cleaner, you can have your driveway looking brand new again.
Pressure washers are portable and typically run on electricity. Should you not own one (and can't borrow one from a friend or neighbour), you can rent them, they really do are the perfect tool for the job, so are well worth investing in. Choose one that has the option to mix chemicals in, as this is vital to getting the best results. This job should take no more than a few hours, but you have to allow a day or so (depending on the weather) for drying.
WHAT YOU'LL NEED:
Pressure washer
Broom
Garden hose
Pressure washer formulated detergent (check instructions)
Safety equipment: Boots, gloves and goggles.
Driveway sealant
Paint roller and tray
Tape and painting sheets (optional)
PREPARATION
To get started you'll need to prep the area by clearing the surface of the driveway. This means sweeping away the bulk of loose material such as stones, dirt, leaves and twigs that may have accumulated over time. Once you've done all that you can, you may want to protect any low windows or doors that might become dirty or damaged as a result of using the pressure washer. If so, use plastic painting sheets or tarp, and tape around them.
Lastly, you have to determine which direction water drains from the driveway. If it's towards a smaller drain then you have to be sure that as much dirt as possible is swept away to ensure that it doesn't get blocked. Furthermore, once you know which way the water drains, be sure to start at the furthest end and work your way towards it.
GET THE WASHER READY
If your pressure washer has instructions, then be sure to give them a read through before attempting to use it. Follow the steps to properly connect it to a power supply, and to attach the washer wands. As some will have the means to use detergents, there will be different settings for the nozzle, so pay particular close attention to this. Typically, it's a lower pressure setting when applying chemicals, and a higher pressure setting for rinsing.
DEGREASING
Before you get started, you may want to think about thoroughly degreasing the driveway first, as it will stay cleaner for longer, meaning less work for you in the long run. You can purchase dedicated degreasers that can be used through the pressure washer, providing it has the correct function. Otherwise, you can always use a stiff bristled brush and work the degreaser into the driveway.
USING THE WASHER
Now it's time to start up the washer and get cleaning. Using the low pressure setting for detergent, start at the higher end of the driveway and work in the direction that the water flows. Keep the nozzle pointed down at all times, and plan ahead to where you're moving. Pay attention that nobody else is around, and be careful of windows and door frames. Gently depress the trigger and sweep the nozzle back and forth across the concrete, overlapping each stroke by a few inches.
Once you're happy that you've cleaned the whole space with detergent, let it stand for roughly 20 minutes, making sure it stays wet if it's a particularly hot and sunny day.
RINSE IT OFF
After 20 minutes or so, switch to the high pressure setting on the nozzle, and put the washer into its rinse mode. Use the same method as before, sweeping back and forth, paying attention to lift off any grime or stains that you may find. Make sure that all detergent has washed away before turning the washer off; all that there is do now is leave the driveway to dry.
APPLY THE SEALANT
Once the driveway has dried completely you can protect it from stains by applying a sealant. These come purpose made and are mixed into a solution that can be applied using a paint roller. Make it easier for yourself by attaching an extension pole to the roller, and then coat the surface entirely. Allow this to dry for at least a full day before you use the driveway again.
And that's all there is to it! Take your time when using the washer, and be sure to stay safe. Once everything has dried you'll definitely be pleased with the end results. For further DIY, homecare and design tips, check out our blog, and if you have any tips of your own for cleaning a driveway, send us a tweet @HIPPOBAG.

Read more at http://www.hippobag.co.uk/blog/pressure-cleaning-your-driveway#Gx2kbycPtW6SPHzw.99