Construction
Effective and flexible waste management using HIPPOBAGs on site - for every type of construction project
The revolutionary waste solution for the Construction industry
The construction industry is the single largest producer of waste in the UK, generating some 120 million tonnes annually. From on-site segregation, disposal of heavy or bulk inert waste streams to recycling plasterboard – HIPPO provide Construction Waste Management Services for all types of construction project, whether residential, commercial, industrial, private, or public.
Our MIDIBAGs (1 cubic yard) and MEGABAGs (1.5 cubic yards) can be level filled with dense, heavy waste. They are both ideal for applications where a skip or larger container is not appropriate, such as when waste needs to be segregated at source, when working across several storeys or in awkward locations. The bags are also effective when used on sites with limited space or sites that are producing smaller, irregular volumes of waste. They can be filled where required, providing it's accessible for our trucks, therefore limiting double handling and ensuring operatives time is used more productively. Collections are quick and carried out by our unique nationwide fleet of 26 tonne trucks – even overcoming a variety of obstacles such as walls and fences.
HIPPO understand that waste streams can vary according to the phase of construction and type of building – and we will ensure that all types of waste, including plasterboard, are dealt with responsibly and efficiently in our waste logistics process. We can help you plan for the volume and type of waste you expect to generate and work with you to develop a bespoke solution for each individual project – giving you maximum efficiency and flexibility.
Get in touch with us today to learn more about how we can simplify your waste management process. Call 0333 999 0 999 or fill in our enquiry form below.

No 1 Skip alternative
HIPPOBAGs arrive flat packed and are easy to store and ready for instant waste containment. They can be purchased directly from HIPPO and be delivered to a destination of your choice. Their small footprint (floor space of a single pallet) makes HIPPOBAGs ideal for sites with limited space or access restrictions and they can be transported on site using a forklift, tele handler or crane. Plus there is no permit required - space can usually found on site

Cost benefits
HIPPOBAGs can help you save money by lowering your overall costs with set national HIPPOBAG rates. By using HIPPOBAGs you are able to avoid haulage and minimum tonnage surcharges. We can collect small amounts of waste or arrange multi bag collections with volume discounts over shorter or longer periods – whatever is required. Our on demand service means you can benefit of a fixed pricing structure without hidden costs or rental fees.

Excellent customer service
From our head office staff to our drivers, the HIPPO team is here to support you. Your dedicated account manager is on hand to provide waste reporting with comprehensive, site specific data regarding waste types leaving your site. Our customer service team will be dealing with all your queries and book all your collections in a simple and seamless process. Our drivers are fully trained, DBS checked, adhere to strict site rules and have the required PPE at all times.

95% Recycling rates
We care about the environment and want to ensure we can love and enjoy it for years to come. As a reputable and responsible company and experts in delivering waste logistics we also support and deliver CSR criteria for our business customers by maximising diversion of waste from landfill through segregation and recycling. We work with nationwide waste transfer stations, which are regularly audited on their high standards and recycling rates to make sure our minimum 95% recycling rates are achieved.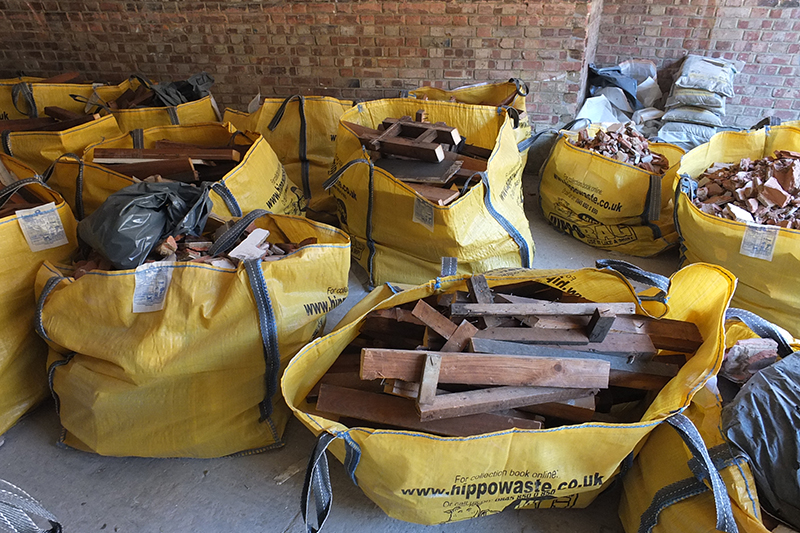 Our work with John Lewis and McLaren Construction
Where working space is often at a premium, the HIPPOBAG provides an efficient and environmentally sound method of waste segregation and disposal. McLaren Construction used the HIPPOBAG to boost environmental performance whilst undertaking their joint construction and fit-out of a John Lewis Partnership At Home store.
HIPPO recommended using the MIDIBAG as the most flexible solution; the one cubic yard bags fit comfortably on a standard pallet, allowing easy movement around site using a fork lift or pallet truck. Flat-packed bags were delivered in bulk ready to be placed near the source of the waste, reducing costly double-handling and minimising Health and Safety risks.
The bags were then consolidated for regular collection, preventing waste build up on site which could have restricted the project's delivery programme. To support the on-site team, HIPPO delivered Toolbox Talks to promote best practice when it comes to positioning, filling and arranging collection of the bags.
Locating HIPPOBAGs at the point of waste generation allowed McLaren to keep working areas tidy. By labelling the bags for each major waste stream, McLaren were able to fully segregate their material. This proactive approach meant HIPPO have reported that 97% of the waste collected was diverted from landfill.
What McLaren Construction say about us
"Working in partnership with HIPPO on this project was the ideal solution. The MIDIBAGs allowed us to keep the site tidy, while segregating the waste before collection boosted our recycling rates resulting in 97% diversion from landfill."
We are here to help with all your waste requirements!
To find out more about how we can support your business with simple and flexible waste solutions, leave us a message and our team will be in touch shortly. Alternatively call us on 0333 999 0 999.
Let HIPPO take care of your waste
Benefits of HIPPO Business waste solutions:
Convenient flexible options for every job
A range of services to suit your needs and your budget
A large fleet of bespoke HIPPO vehicles across the UK
15 years of experience with over one million happy customers
Contact us now!