Plasterboard
Regional or national plasterboard disposal and recycling scheme using HIPPOBAGs
A simple nationwide solution for plasterboard removal
Plasterboard is known as a difficult waste stream. Since it is a difficult to recycle material and not many waste transfer stations accept it, most waste removal companies have a zero-tolerance policy when it comes to contamination of other waste with plasterboard, leaving you at risk of your waste not being picked up at all. It's different at HIPPO.
When it comes to plasterboard, thanks to years of experience in the waste industry, we have created a nationwide network of plasterboard outlets. This enables us to offer a truly national waste logistics service and serve customers with both regional and national operations.
HIPPO provides a quick and reliable service to allow you to remove excess plasterboard from your site without contaminating your general waste streams all using HIPPOBAGs. HIPPOBAGs are non-bulky, lightweight and come flat-packed meaning that valuable space can be saved on-site whilst you are undertaking your project.
As part of our commitment to responsible and ethical waste logistics our dedicated plasterboard disposal and recycling scheme means that we recycle 100% of uncontaminated plasterboard that we collect. We also offer reviews of environmental performance on a site by site basis – including a breakdown by waste stream and percentage of landfill diversion.
In addition to collecting plasterboard HIPPO's reliable, flexible and convenient service allows the segregation of different types of waste from your project. This means that you can easily increase your company's recycling rates, as well as saving money on landfill tax.
Get in touch with us today to learn more about how we can take care of your plasterboard recycling process. Call 0333 999 0 999 or fill in our enquiry form below.

No 1 Skip alternative
HIPPOBAGs arrive flat packed and are easy to store and ready for instant waste containment. They can be purchased directly from HIPPO and be delivered to a destination of your choice. Their small footprint (floor space of a single pallet) makes HIPPOBAGs ideal for sites with limited space or access restrictions and they can be transported on site using a forklift, tele handler or crane. Plus there is no permit required - space can usually found on site

Cost benefits
HIPPOBAGs can help you save money by lowering your overall costs with set national HIPPOBAG rates. By using HIPPOBAGs you are able to avoid haulage and minimum tonnage surcharges. We can collect small amounts of waste or arrange multi bag collections with volume discounts over shorter or longer periods – whatever is required. Our on demand service means you can benefit of a fixed pricing structure without hidden costs or rental fees.

Excellent customer service
From our head office staff to our drivers, the HIPPO team is here to support you. Your dedicated account manager is on hand to provide waste reporting with comprehensive, site specific data regarding waste types leaving your site. Our customer service team will be dealing with all your queries and book all your collections in a simple and seamless process. Our drivers are fully trained, DBS checked, adhere to strict site rules and have the required PPE at all times.

95% Recycling rates
We care about the environment and want to ensure we can love and enjoy it for years to come. As a reputable and responsible company and experts in delivering waste logistics we also support and deliver CSR criteria for our business customers by maximising diversion of waste from landfill through segregation and recycling. We work with nationwide waste transfer stations, which are regularly audited on their high standards and recycling rates to make sure our minimum 95% recycling rates are achieved.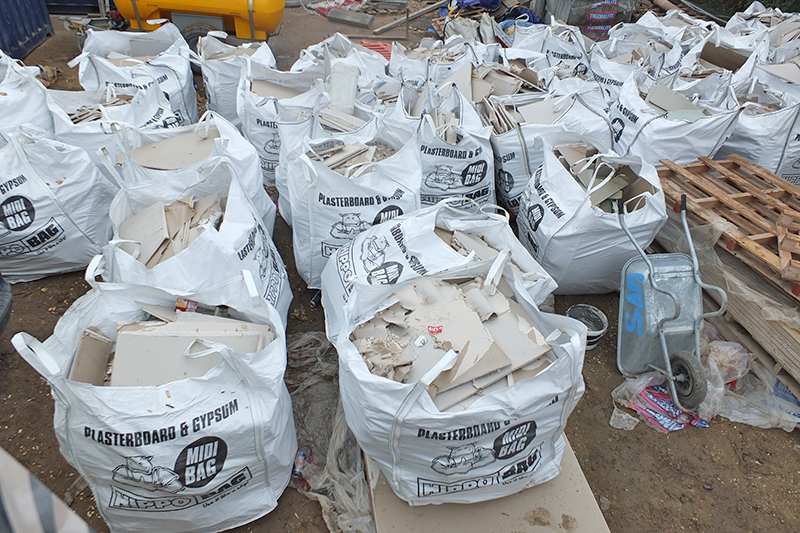 Our work with Galliford Try
Galliford Try used the HIPPOBAG system for disposing of the waste generated from a major refurbishment project of a building that was being converted into student accommodation. This meant creating a lot of small rooms using plasterboard.
With the aid of pallet trucks, Galliford Try were able to manoeuvre HIPPOBAGs within confined spaces to position them close to where work was being carried out. Once full, the timely collection guarded against double-handling of waste and the subsequent downtime usually associated with waiting for a skip to be delivered and collected.
In 2002 plasterboard was reclassified as a non-inert waste that needs to be disposed of separately at landfill at an increased cost. Different to traditional containers for waste, the HIPPOBAGs made it easier for the team on site to segregate the plasterboard from other waste materials so that it could be recycled, rather than sent to landfill.
What Galliford Try say about us
"The HIPPOBAG has not only provided Galliford Try with enhanced operational efficiences on site but also the ultimate solution for the segregation and subsequent recycling of plasterboard."
We are here to help with all your waste requirements!
To find out more about how we can support your business with simple and flexible waste solutions, leave us a message and our team will be in touch shortly. Alternatively call us on 0333 999 0 999.
Let HIPPO take care of your waste
Benefits of HIPPO Business waste solutions:
Convenient flexible options for every job
A range of services to suit your needs and your budget
A large fleet of bespoke HIPPO vehicles across the UK
15 years of experience with over one million happy customers
Contact us now!