Social Housing
Improving efficiency and reducing your waste costs associated using HIPPOBAGs
Flexible waste solutions for Housing Associations and Decent Home contractors
At HIPPO we understand that waste, although an unwanted part of your projects, can be a source of inefficiency and cost – with the potential to impact both your tenants and your contractors. We have over 15 years of experience in the delivery of flexible and cost competitive waste collection services for both planned and reactive work.
HIPPO specialises in delivering bespoke waste management services across the UK to a range of providers working in the housing sector including: repairs and maintenance, void clearances, groundwork and the installation of gas, kitchens or bathrooms. Our HIPPOBAGs and Man and Van services are perfect for clearances of any size whilst ensuring that you fulfil your duty of care commitments to the community and your contractors.
With HIPPOBAGs (available in a range of sizes) and our Man and Van solution, you only pay for the waste generated on the job – giving a very competitive price and making it easier for you to control your waste costs. Ultimately, HIPPO will save you money and free up time for your contractors – allowing them to move on to their next job.
Get in touch with us today to learn more about how we can deliver a flexible and cost competitive waste solution. Call 0333 999 0 999 or fill in our enquiry form below.

No 1 Skip alternative
HIPPOBAGs arrive flat packed and are easy to store and ready for instant waste containment. They can be purchased directly from HIPPO and be delivered to a destination of your choice. Their small footprint (floor space of a single pallet) makes HIPPOBAGs ideal for sites with limited space or access restrictions and they can be transported on site using a forklift, tele handler or crane. Plus there is no permit required - space can usually found on site

Cost benefits
HIPPOBAGs can help you save money by lowering your overall costs with set national HIPPOBAG rates. By using HIPPOBAGs you are able to avoid haulage and minimum tonnage surcharges. We can collect small amounts of waste or arrange multi bag collections with volume discounts over shorter or longer periods – whatever is required. Our on demand service means you can benefit of a fixed pricing structure without hidden costs or rental fees.

Excellent customer service
From our head office staff to our drivers, the HIPPO team is here to support you. Your dedicated account manager is on hand to provide waste reporting with comprehensive, site specific data regarding waste types leaving your site. Our customer service team will be dealing with all your queries and book all your collections in a simple and seamless process. Our drivers are fully trained, DBS checked, adhere to strict site rules and have the required PPE at all times.

95% Recycling rates
We care about the environment and want to ensure we can love and enjoy it for years to come. As a reputable and responsible company and experts in delivering waste logistics we also support and deliver CSR criteria for our business customers by maximising diversion of waste from landfill through segregation and recycling. We work with nationwide waste transfer stations, which are regularly audited on their high standards and recycling rates to make sure our minimum 95% recycling rates are achieved.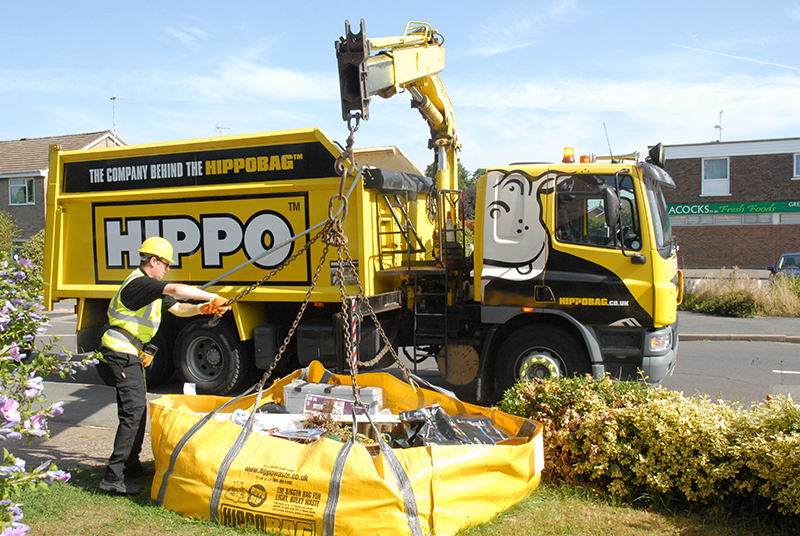 Our work with Vale of Aylesbury Housing Trust
Before partnering with HIPPO, all waste generated by the Trust was deposited in a centrally located skip, which led to productivity issues due to double-handling of waste and a lack of monitoring.
HIPPO recommended a three bag solution, meaning they only had to pay for the waste produced. Waste could now be stored where it was generated and moved across the site whenever it was necessary to do so. The Vale of Aylesbury Housing Trust have been using HIPPO's innovative waste solution since 2012. By using HIPPOBAGs, they have managed to increase productivity and reduce costs, as well as improved environmental performance.
What Vale of Aylesbury Housing Trust say about us
"HIPPOBAGs allow us to deal with our waste quickly and much more effectively. The bags are ideal for void clearances; too much waste is never a problem, our operatives just pop open another bag."
We are here to help with all your waste requirements!
To find out more about how we can support your business with simple and flexible waste solutions, leave us a message and our team will be in touch shortly. Alternatively call us on 0333 999 0 999.
Let HIPPO take care of your waste
Benefits of HIPPO Business waste solutions:
Convenient flexible options for every job
A range of services to suit your needs and your budget
A large fleet of bespoke HIPPO vehicles across the UK
15 years of experience with over one million happy customers
Contact us now!