Skip Hire
For large volumes of heavy waste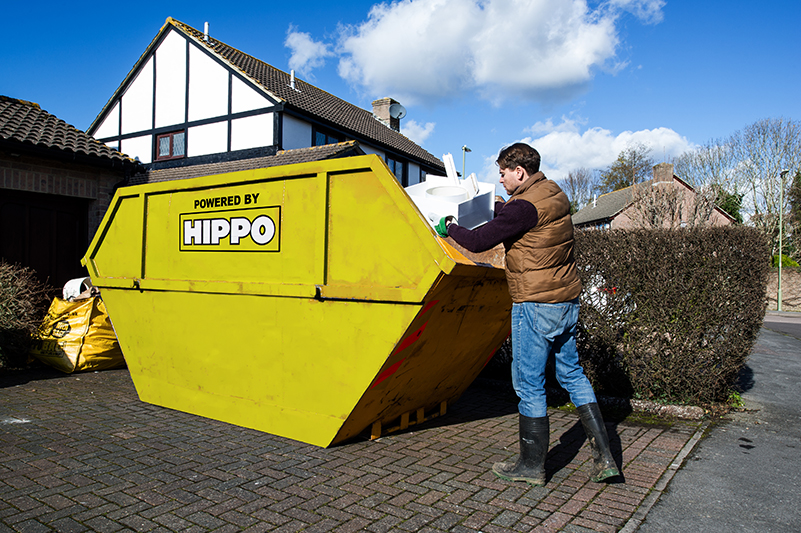 Business Waste Solutions
Offering a variety of waste solutions – let HIPPO provide the right one for you.
Whether your business requires regular skip hire, large waste container hire or alternative collection units, such as front-end loaders, HIPPO is here to help.
Our range of solutions allows us to match the right size and type of container – whether your requirement is 4 or 40 yards. Using our network of carefully selected and trusted partners across the UK, HIPPO can provide the waste service your business needs anywhere in the UK.
Booking with our friendly Customer Service team is quick and easy. If you are unsure on which collection method is most suitable, our team will be happy to provide advice to find the best solution.
Which waste solution is right for you?
HIPPO offers a wide range of business waste solutions, whatever the size and requirement of the job. Below is an example of what we can offer.

Builder's Skips
Available in a range of sizes – from 4 to 16 cubic yards – to suit your waste or recycling need

Large Waste Containers
Offering roll on, roll off waste containers – up to 40 yards – perfect for large volumes of waste or recycling

Alternative Containers
We can provide a wide range of alternative waste removal containers, including but not limited to Grab Lorries, Large Wheelie Bins, Front End Loaders and Hazardous Waste
We are here to help with all your waste requirements!
To find out more about how we can support your business with simple and flexible waste solutions, leave us a message and our team will be in touch shortly. Alternatively call us on 0333 999 0 999.
Let HIPPO take care of your waste
Benefits of HIPPO Business waste solutions:
Convenient flexible options for every job
A range of services to suit your needs and your budget
A large fleet of bespoke HIPPO vehicles across the UK
15 years of experience with over one million happy customers
Contact us now!